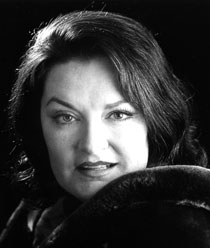 Shirley Harned Kelley has sung with most of the major opera companies on the West Coast. Ms. Harned made her professional debut with Seattle Opera and appeared with that company every subsequent season until her retirement. In addition, during that time, she sang annual stints in the Wagner Ring Cycle from its beginning, for a total of 27 complete cycles.
Ms. Harned appeared with the Opera de Bellas Artes in Mexico City singing Verdi's Lady Macbeth to great acclaim in the Mexican press. San Francisco, Vancouver and San Diego have seen Ms. Harned in Wagner, Massenet, Mozart, Janacek and R. Straus operas. She has appeared in Portland as Prince Orlovsky, the Valkyrie Siegrune, and the Second Lady in Mozart's Die Zauberflöte. Venturing further inland, she has sung Olga Olsen in the Houston Grand Opera production of Kurt Weill's Street Scene. A review in Opera News called her performance "delightful."
Major roles with Seattle ranged from Azucena, Augusta Tabor, and Santuzza to Orlovsky, the Mother in Amahl, Nicklausse in Les contes d'Hoffmann, Berta in Il barbieri di Siviglia, two roles in the epic War and Peace (Prokofiev), La Ciesca in Gianni Schicchi, and the High Priestess in Aida, as well as many supporting and character roles. Her last appearance in Seattle was as the Contessa de Coigny in Andrea Chénier. The music critic of The Seattle Times deemed her performance "brilliant".
She also sang the Mother in Amahl with Seattle Opera for three Christmases, at the Seattle Opera House, to sold out houses. The production traveled to Yakima, Bellingham, and several other cities on tour in the state. Other venues in Washington State in which she appeared include the Tacoma Opera as the Mother in Amahl and the Witch in Hansel und Gretel. She sang La Ciesca in Gianni Schicchi with the Spokane Symphony to open the new Spokane Opera House.
Ms. Harned's symphonic engagements have included many performances with the Seattle Symphony in works ranging from EI sombrero de tres picos by Manuel de Falla through Beethoven, Mendelssohn and Mozart to Handel's Messiah. In addition to the Anchorage Symphony's Basically Baroque Festival singing both the contralto and mezzo-soprano solos in Bach's B minor Mass, she has appeared as soloist with orchestras and choruses throughout the Northwest with such dissimilar works as Respighi's Lauda per la Natività del Signore, Mozart's Davidde penitente, and the Requiems of both Verdi and Duruflé.
While the classics have been a mainstay of Ms. Harned's career, she also has enjoyed the unique challenges offered by contemporary music. One such appearance was as soloist in a concert of new compositions by women, singing a major work by Diane Thome for soprano, orchestra and tape, The Ruins of the Heart, composed in 1990. The Seattle Post-Intelligencer music critic mentioned particularly Ms. Harned's "lovely sound."
To round out her career, Ms. Harned has done several theatrical productions with companies such as the Seattle Repertory Theatre and The Group Theatre. She performed in recital "as often as people would let me!" as she has a special love for the song repertory, especially the music of the United States, Latin America and Spain. She was heard in recital on radio in the Pacific Northwest's KING-FM and KUOW-FM on several occasions. In addition to the Pacific Northwest, recital engagements took Ms. Harned as far afield as the eastern United States, Japan, and Panama-where she was raised and first started singing professionally.